MDS HealthCare for IBM PureSystems:
Meeting the Needs of the Healthcare Supply Industry
With more than 25 years of Healthcare Distribution experience, TSH is committed to providing Healthcare Supply Distributors with practical, effective information management solutions. Solutions, proven to reduce costs and increase efficiencies throughout the Healthcare Supply Chain.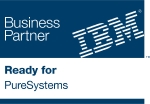 TSH's flagship product, the Master Distribution System (MDS), is a fully-integrated, easy-to-learn, enterprise software solution designed to operate in high-volume, order-intensive, service-oriented Healthcare Supply environments. A proven, mature and modern solution, MDS is robust, stable and customizable. and is now available as a solution for IBM PureSystems
Offering features not found in general distribution products, MDS represents your single, best choice for Healthcare distribution information technology.
Ready for IBM PureSystems
IBM PureSystems combine the flexibility of a general purpose system, elasticity of cloud and the simplicity of an appliance tuned to a workload - fundamentally changing the experience and economics of IT. MDS HealthCare is enabled on IBM PureFlex™ System. The IBM PureFlex™ System combines compute, storage, networking, virtualization and management into a single infrastructure system that is expert at sensing and anticipating resource needs to optimize your infrastructure. With MDS HealthCare and IBM PureSystems, you can save time and money with virtualized appliances and be sure of a seamless user experience.
Click here to learn more about the IBM PureSystems.
Host Server Requirements
OS: 32/64-bit Red Hat Enterprise Server, IBM AIX 32/64-Bit

Ports required: 31438 and ssh on port 7599 .

Guideline for sizing hard disk space: 10 GB per 1 million in sales volume.

Recommended Host Server: Dual Core CPU 16GB RAM

SAS hard disks. Multi-channel at 6 GB/second per disk ,or similar Raid Setup.
Cloud Hosting Options
Your Choice of OS: 32/64-bit Red Hat Enterprise Server, IBM AIX 32/64-Bit

Single IP Address for Access

Per GB monthly access charge (contact for pricing)

Simple Single monthly Access Cost , Server and Software
MDS HealthCare
Includes all Healthcare Distribution Requirements
Rebates and Contract Management
Lot, Expiration Date and Serial Number Tracking
DEA and ARCOS reporting
Physician Order Templates
EDI - Implementation of X.12 Standard
Fully Integrated E-Commerce Capability
Document Imaging
Multi Carrier Shipping Interface
Integrated Fax and E-mail Capability
MDS Healthcare and Its Companion Products Provide...
Versatility with each MDS module operational as a stand-alone entity or as part of a fully integrated system
Key Healthcare facility functionality, including:

EDI for purchasing, billing, rebate and sales tracking
Real-Time Rebate Calculation and Tracking
E-Commerce with RemoteNet B2B to help solidify customer relationships
Remote Order Entry providing your customers with 24/7 access for orders, order status and more
Compliant Reporting that meets DEA and ARCOS requirements
Contract Management to maintain contracts, facilitate standardization, create e-catalogs and monitor compliance
FDA Recall Control
Custom Report Generation with ad hoc query

Open Architecture that allows expansion and integration with other products
Compliance Guarantee:
As further commitment to our Healthcare distribution customers, we have developed our Healthcare Distribution Compliance Guarantee. TSH will incorporate any and all Healthcare Distribution Industry requirements as part of our regular software updates - at no additional cost to our customers. *
Healthcare Distribution Associations:
As part of our ongoing commitment to the Healthcare Distribution Industry, TSH maintains close relationships with several key Healthcare Distribution Associations:
Independent Medical Co-op, Inc. (IMCO)
As an approved IMCO vendor TSH proudly exhibits at the member shows , and has many IMCO members as esteemed customers.
National Distribution and Contracting (NDC)
TSH developed the technology behind MedConduit.com (an NDC Company), and NDC Warehouse Online. These sites provide an easy to use and cost effective vehicle for NDC's member distributors to place orders with NDC, and obtain round-the-clock access to order, product, and purchasing information. In addition, TSH developed private branded websites for NDC's members so that the members can extend these same capabilities to their thousands of hospitals, doctors and private office customers.
TSH continues to work closely with NDC to advance the functionality of these sites and develop new projects. TSH has many NDC members as esteemed customers.
Health Industry Distributors Association (HIDA)
TSH is a longstanding member of the HIDA Educational Foundation and participates in the annual HIDA convention. In addition, TSH is a member of the HIDA Technology Advisory Council.
To download a PDF version of our brochure detailing the Healthcare Features of MDS, click here.
Call toll-free 1-800-MDS-5556 for a FREE demonstration in your office.
* Normal terms of MDS software update policy apply.
Click here and tell us how we can help you with your business solutions.